Land Rover of Hartford Gifts Tool Kits to Tech Students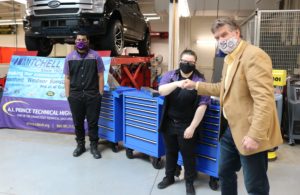 Land Rover of Hartford, part of Mitchell Auto Group, has awarded three tool kits, valued at $3,000 each, to A.I. Prince Technical High School's Automotive Technology program. Steven Mitchell, Vice President of Mitchell Auto Group, presented the tool kits this week.
"I am delighted that Mr. Mitchell and Land Rover are willing to partner with Prince Tech," said Principal Dan Mello. "This provides our auto students with a direct pipeline into employment opportunities in their career pathway."
"Tools are a big expense for students," said David Tefft, Mitchell Auto Group Director. "This gift is to get somebody going in the industry and hopefully students will consider working for us."
Attracting skilled technicians to their business is a priority of Mitchell Auto Group, as the number of automotive technicians retiring statewide is expected to dramatically rise in the coming years, and the number of new technicians entering the auto repair field is at a historic low.
Two students have been gifted the kits based on their career goals, good attendance and positive attitude. The third kit will be awarded to a senior student who has completed the highest number of Automotive Service Excellence (ASE) certifications by graduation.
Tefft says this is a first-of-its-kind donation from Mitchell Auto Group, but they hope to continue.
Mitchell Auto Group also sits on the Career Technical Education Advisory Committee (CTEAC) at Prince Technical High School. CTEAC members ensure the technical high school trade programs are in alignment with industry trends by providing input on curriculum, technology and workplace readiness skills.
Prince Tech's Automotive Technology program trains grade 9 through 12 students how to diagnose, service and repair today's vehicles. The curriculum is aligned with the ASE Education Foundation Standards and students are taught by ASE Certified Master Technicians in a real-world licensed repair facility. Graduates of the program earn a high school diploma, a career certificate in their field of study, and multiple industry-recognized credentials. Prince Tech is part of the Connecticut Technical Education and Career System, a statewide school district of 17 diploma granting high schools, two aviation maintenance technician schools and an adult education center. Learn more at cttech.org.